Mis Viajes - Nottingham Experience [Eng]
As promised, this is the entry dedicated to a very special part of my trip to Europe, specifically England in January/February 2014. My visit to one of my very best friends who is currently living in Nottingham (... at least up until the time of this post was written), my dear Rocio Hinojosa.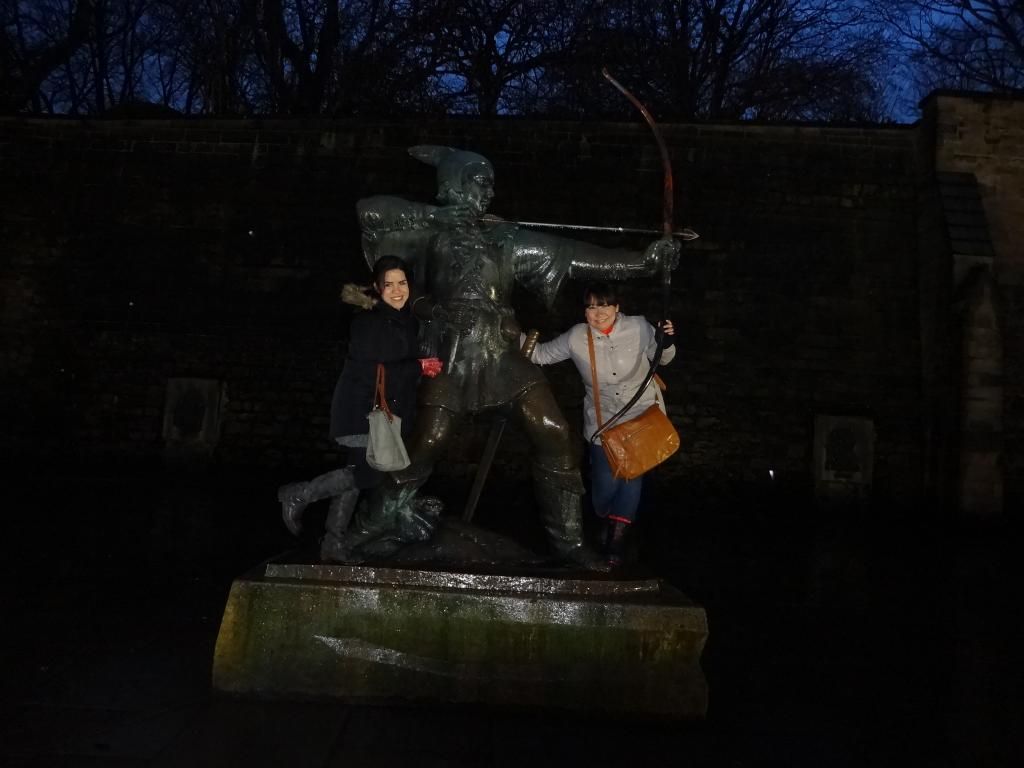 After a week long trip to
London, France, Belgium & Netherlands
we came back to England, picked up our luggage and headed to the bus station that would take us to Nottingham, which is located north of London and took us about 5 or 6 hours to get there.
[NOTTINGHAM]
We met with my friend Chio at the bus station and then went straight to her house, located in Beeston and also very close to Nottingham University. That day, I realized of a very stupid situation... I lost the key to open my suitcase, so I had to continue using the clothes I used for the previous trip.. bad luck! That same night we met Chio's house mates, Armando, Ulises (both Mexican) and also a neighbor called Ross (English). Very, very nice people who let us stay in their house.
We were facing another week of staying in Nottingham and we wanted to make it count... not only to visit a lot of places but to meet people, since we had little chance in the trip before! So next day, together with Chio we went to visit her university and attend a class, that turned out to be very interesting and potentially useful for my work, about Supply Chain; unfortunately we couldn't stay long in the class because the teacher starting taking roles so we went out. After that we went along with other friends of Chio to a Pub (our first time in one!!) and we got to know more about her friends.
Turned out, the more people we met the fun everything became. That day though, we didn't do much... and after dinner we returned home. But that night, Chio told us she wouldn't be able to be together with us and decided to send us on a field trip to Liverpool city (the Beatles city!) and since the tickets were cheap and it sounded fun, we let her rest and study and we went the next day.
[LIVERPOOL]
It took us about 4 hours to get to Liverpool, so we arrived at the bus station and began our trip; we had to make it quick because our bus back would depart at 5pm.
So we walked to Liverpool's downtown which was surprisingly close to the bus station. The walk there took about 10 minutes and we arrived to a commercial area with a lot of stores, cafes and pubs. Since it was already midday we decided to stop a little bit to eat some sandwich Chio had previously prepared for us, and after that... since we needed to investigate what to do in the city we decided to visit a Cafe Nero or Costa Cafe, which are very popular cafe franchises in Europe. After a little research and a very tasty cafe, we decided to target two places: The Cavern and the Port of Liverpool.
Both this places, are icons of Liverpool. First, the Cavern, this place is very much known because it is where the Beatles started their very famous career, it is so famous that artists from all over the world but specially from Europe; and the Port of Liverpool, only because I found out it was from this port that the TITANIC shipped off to their doom. Here are some pictures from that day.
Walking around the area where the Cavern was we discover that the pub or bar was open at midday so we walked in. And we went down and down a set of stairs until we reached the place. It was awesome. I'm not very good with bars, and I don't know how to judge which one is good and which one it isn't, but this one had such a good vibe that though I didn't know the songs they were playing I felt very good and at ease.
Here I took some videos of The Cavern Club, if you know the song, I'd very much like to know the name =) !!
After our visit to the Cavern we head out to buy souvenirs with very high Beatles spirits... and there just a few stores from the Cavern we found a shop with a lot of Britain and Beatles merchandise. I have a cousin that loves the Beatles and since I was in the perfect place and everything was full of them I wanted to take many videos for her, haha in the end I only managed to take this one...
Some time later on our walk back to the bus station we stooped at a government looking museum to which we entered to find very classy people being instructed what the objects shown were and from whom and all that. We, walked around and decided this was not exactly what we wanted and left.
After that we passed a very big library! To which I really wanted to get inside, and so we did! But before that, I took a video of the floor at the entry which had the names of a lot of books that either I've read or I'd love to read!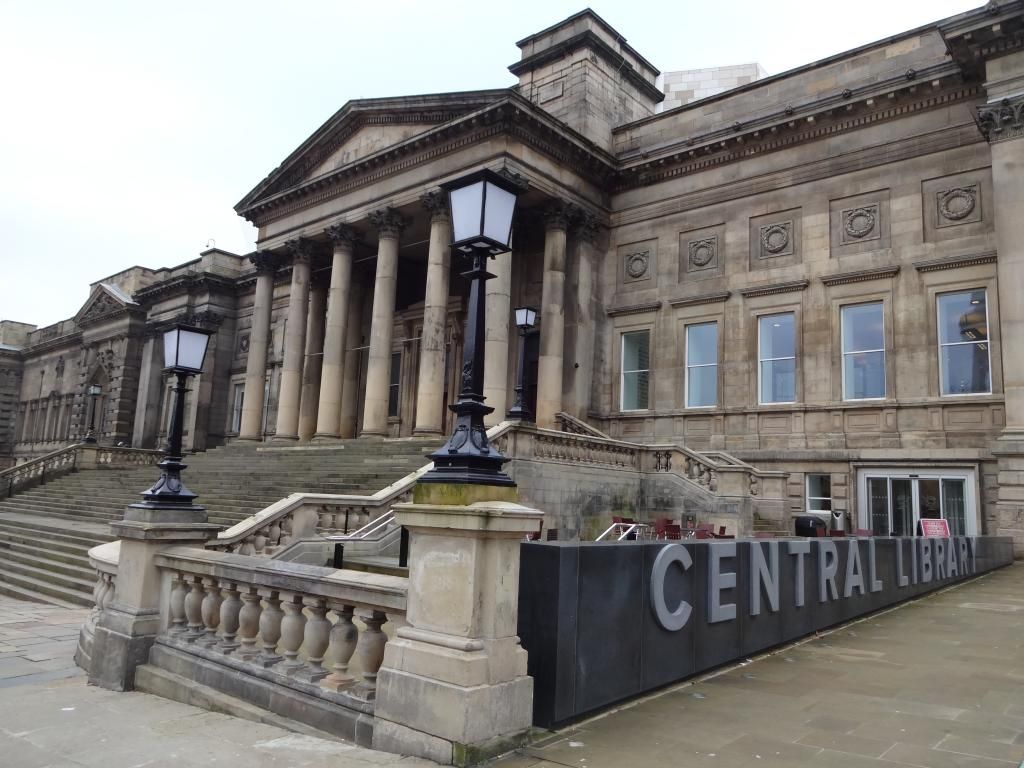 Inside I saw a lot of books that I wanted to read, and I started a small list of them so I could get them and read them when I find the time to! But, after all the books we were running late for the bus back. So we run and were able to come back safely to Nottingham!!
[NOTTINGHAM - again!]
We arrived super tired, and I think we went to sleep because next day the plan was to visit the Wollaton Park, which turned out to be the place where the mansion of Bruce Wayne is... OMG! BATMAN!!!!
But before that, Chio took us to visit two iconic places of Nottingham City which were the statue of Robin Hood and the Oldest Pub in the whole Britain.
So, the next days I don't think I remember the correct order of the events, but I'm sure we went to visit Wollaton Park one day but we went very late and it was almost closing time... but we managed to take pictures and admire the grandeur of the place! It was a real palace... the biggest and closest I'd ever seen in my life!
Here are some photos of it..
Yep.. that's me in the pictures! It was very nice~!
I think, besides all the nice places we visited, the most I remember and the thing that made me very happy in the end on this trip, was all the people I met and the ones I got to spend my time with. Naturally, in the first part of our trip it was somehow difficult to get to know many people because we spent in each country around 1 or 2 days, but we managed to meet a few people; but in Nottingham it was different!
First of all, as I'm sure I mentioned before we were living with my childhood friend Chio, whom was living with other 2 Mexican guys (Ulises and Armando) who were amazingly great people, but we also met a lot of Chio's friends from school.. So one day, they invited us to an International Dinner to which all of us were supposed to take food from their own country. So us, Mexicans, we took Mole and Guacamole!
So we got to try a lot of food from different countries like Germany, England, Lebanon, Spain, and some others, and all was delicious, and the company amazing! Everyone was so nice and friendly that we quickly became friendly.
Those days, we went to night clubs with them it was so fun to spend time both with my dear old friend and with new very interesting people! It was so fun, we even chat hours after we arrived at night from the club, and I remember the last night we spent there, we were talking with Ross (Chio's neighbor) and we started playing UNO cards, one game after the other and again and again... until I couldn't resist sleep and went to bed.
All in all, this trip was very different from others I've had because I managed to meet people, and this people were very nice and cool! So it made it unforgettable.
I hope, this was a good review for my trip to Nottingham!
I'd love to visit again, but since I don't have a lot of money at the moment, that will have to wait some time!! =P
Thanks to all of those who made it such a special and fun trip !! And specially to my dear Chio whom I love and miss so much =)
That's it for today.. Good bye~!
Ale's note:
It took me so long to write this because I've been so busy with work, that I haven't been able to do update my blog... But I'll definitely come back with new updates :) !!
I don't know yet when I'll have a new update but... I'll make it as soon as I can... In the mean time, this one's ready to go~!!